AHOY MATE! COME ON BOARD AND HAVE SOME FUN!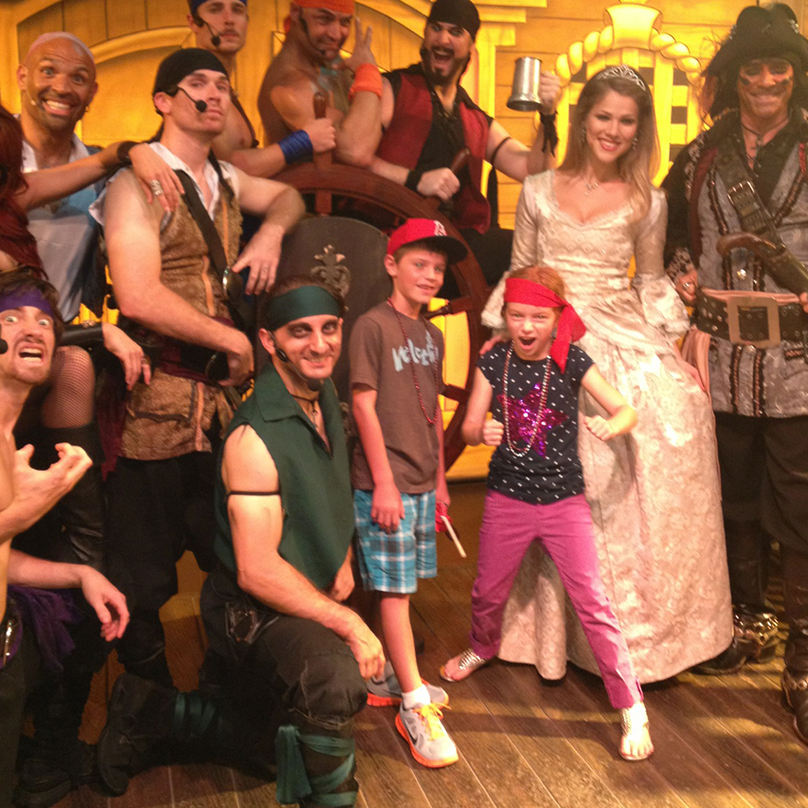 This Broadway quality show will ship you to a time of unforgettable adventures. You will be hostage of a band of pirates led by the cowardly Sebastian the Black who will stop at nothing to plunder, pillage, and rob. The rough seas ahead will make things murkier. However, you could witness some spectacular stunts, dazzling special effects and amazing aerial acts while you dine in fear! This show is the perfect blend of comedy romance, action and adventure.
Pirate's Dinner Adventure fun for the whole family.
Guests are entertained with an astonishing display of special effects wizardry, aerial artistry, swashbuckling swordplay, dynamic duels and daring-do; a classic story of good vs. evil that offers the perfect blend of pirate action, adventure, comedy and romance; the opportunity to interact in the pirate adventure; and a sumptuous dining experience. The evening continues with the swashbuckling, side-splitting, musical Pirates Dinner Show Adventure Spectacular!
"Live the Pirate's Life!" at the "Worlds Most Unique Interactive Dinner Show!" Featuring a multi-million dollar, Broadway-styled musical comedy theatre, showcasing a swashbuckling, action packed adventure, and sumptuous Pirate's feast of Caribbean delicacies…All on board an authentically replicated 18th century Spanish Galleon.
As a special guest of Princess Anita, you are invited to start off your evening with a bountiful appetizer buffet. Enjoy the King's assorted salads, tasty snacks, and special sauces. The festival buffet is prepared to whet the appetite of royalty and commoner alike. But, save room because there is a feast awaiting that can satisfy even the hungriest of pirates!