LA NOUBA BY CIRQUE DU SOLEIL
LA NOUBATM BY CIRQUE DU SOLEIL®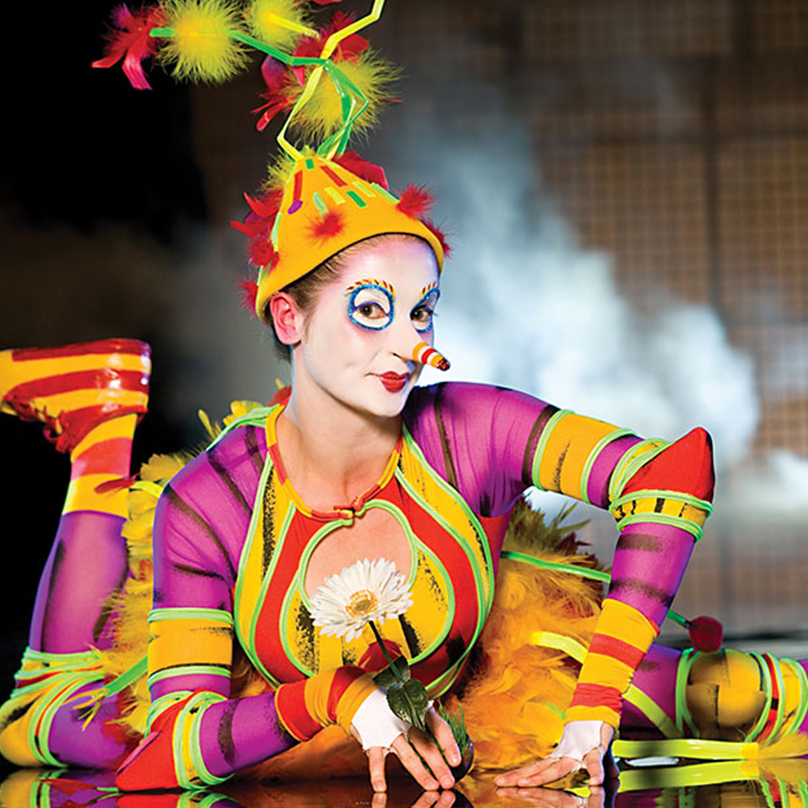 LOCATED IN DISNEY SPRINGS™ – WEST SIDE
Although the name Cirque du Soleil La Nouba implies the event is a circus, it is anything but that. At Cirque du Soleil you will not find any animals, dancing bears, lions leaping through hoops or elephants doing tricks. Cirque du Soleil is a completely immersive theatrical presentation combining elements of modern dance, staging, humor and acrobatic stunts. Dispersed throughout the show are acts of hilarity, peculiarity, inspiration, excitement and amazement. At the completion of a Cirque du Soleil show, guests are left wondering how it was possible for time to move so fast from the intriguing, attention grabbing pre-show to the final erupting standing ovation. The creativity of this highly sophisticated show abounds and enthralls. The costumes are stunningly exotic, the sets even more unusual, the action non-stop, and the original music capturing to say the least.
Currently, "La Nouba" is the Cirque du Soleil production being showcased at the Cirque du Soleil theatre in Downtown Disney's West Side. La Nouba was developed exclusively for Walt Disney World, and such its underlying theme matches that of Walt Disney World. "La Nouba" is French for fun, to party, and to "live it up".
Cirque du Soleil La Nouba certainly lives up to its name. The white "big top" Cirque du Soleil theatre in Downtown Disney's West Side has room for 1,671 patrons, which is approximately the size of the Mystere theatre at Treasure Island, Las Vegas. The theatre's configuration is similar to Mystere's in that it has stadium-style seating surrounding the stage in a semi-circle. La Nouba is not as elaborate and extravagant as its Las Vegas counterparts (Mystere and "O"), but that in itself is part of its charm. Cirque du Soleil tradition of storytelling through original "new-age" music performed by a live orchestra is every bit as enthralling as the other shows. La Nouba uses dramatic lighting, sets, and stages that move and evolve in different ways than the other shows.
More than 70 artists from around the world including gymnasts, acrobats, dancers and clowns — take artistic energy to riveting new heights in this original production. With its original musical score, extraordinary costumes, surreal sets, theatrical lighting and high-energy choreography, La Nouba weaves an unforgettable 90-minute tapestry of art, life and high drama on an Elizabethan-style stage designed to engage and delight audiences.All seats in the theatre offer an excellent viewing perspective. There are no "bad seats".
Make sure you and your guests enter the theatre at least 10 minutes before show time or your tickets will be resold. We recommend arriving 30-45 minutes early as the experience truly begins before the show ever starts. This will also allow time for bathroom breaks and picking up refreshments. There is a snack bar inside the theatre as well as a gift shop. An additional merchandise shop selling items from all Cirque du Soleil productions is open to the general public on the main floor of the theatre adjacent to the box office.