Aquatica / Adventure Island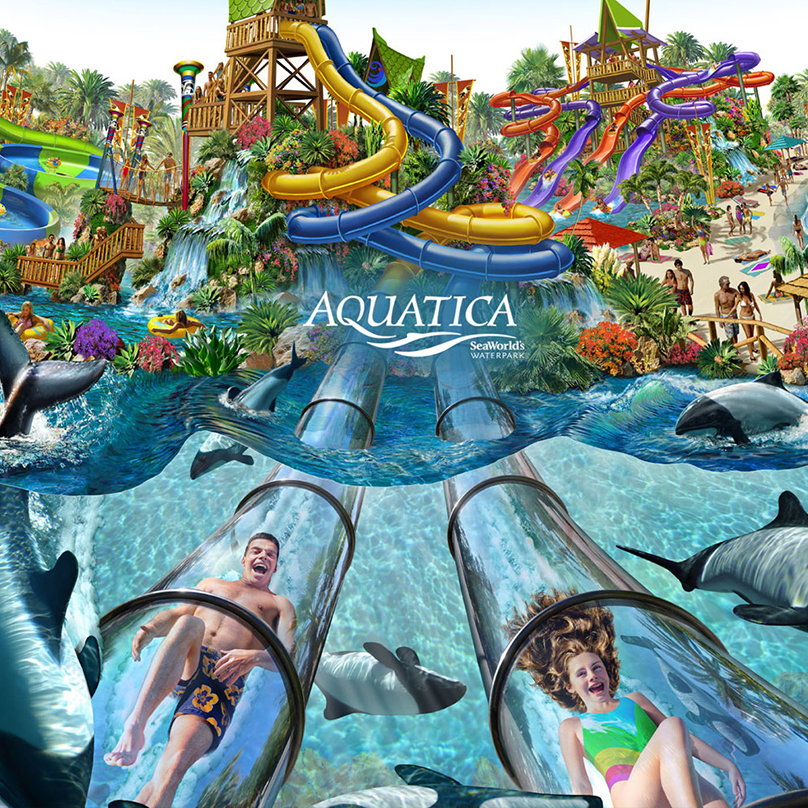 Aquatica, SeaWorld's Water Park, will offer twin wave pools that can produce two different wave patterns or work in tandem to create dueling waves and enormous combined waves.
Many of the park's attractions even offer dual experiences within the same ride. Two immense wave lagoons create the world's only side-by-side wave pools that can be operated independently or together. Though side-by-side, each lagoon offers a very different experience: one with crashing waves and 5-foot swells, the other with a gently rolling surf. Nine different wave patterns can be created throughout the two pools, with the ability to generate one immense wave, or even "dueling" waves.Peeking through this verdant landscape, brightly colored, quirky buildings topped with swooping, pitched roofs create an uplifting, carefree setting. Colorful, whimsical animals – derivative patterns from New Zealand's Maori culture – adorn carved totem poles and interactive fountains.
Aquatica, SeaWorld's Water Park, features the most thrilling water rides in the world with 36 water slides, six rivers and lagoons, and more than 80,000 square feet of beach area. Designed in a way that could only be done by SeaWorld, these distinct attractions will zoom, float and splash guests through amazing animal habitats and undersea adventures.
The park's signature attraction plunges riders in clear tubes through a crystal-blue lagoon with black-and-white Commerson's dolphins. Guests feel as if they are flying beneath the sea among these beautiful animals. While similar in coloration to SeaWorld's icon, Shamu, these dolphins are also distinctly different. In addition to being much smaller, they are also fast, agile swimmers – making them the perfect inhabitants for this lively park.
Perhaps Aquatica's most unique attraction will be side-by-side clear water slides that will shoot riders underwater where they will encounter black and white Commerson's dolphins.
Unlimited Visits To Your Choice of Parks FREE Parking Ages: 3 and Up Valid for 14 Days of Unlimited use of the following parks: SeaWorld, Aquatica, Busch Gardens and Adventure Island. Ticket is Valid for 14 Consecutive Days starting from first day of use. Ticket...